HARTFORD, Conn. — On May 18, 1843, abolitionist, orator, and statesman Frederick Douglass stood outside the Center Church – now known as the First Church of Christ – in downtown Hartford and gave a speech urging the end of slavery in the United States.
This week – on the 180th anniversary of Douglass' first appearance in Connecticut's capital city – begins a new exhibit dedicated to exploring the former enslaved statesman's reflections on image-making, race, and citizenship.
"I Am Seen … Therefore I Am: Isaac Julien and Frederick Douglass" juxtaposes rare 19th-century daguerreotypes – the first still photographs – of African Americans with the multi-screen installation "Lessons of the Hour" by film artist Sir Isaac Julien.
"One of the main questions we have in this American democracy is how are we going to tell the story of who we are," co-curator Sarah Elizabeth Lewis told FOX61 on Friday. "And in representational democracy, the answer has always been – and what this show reminds us of – is that representation itself. The arts, culture, have always been a way to work through the blind spots of norms and laws that didn't honor the full humanity of all those who live in this extraordinary country."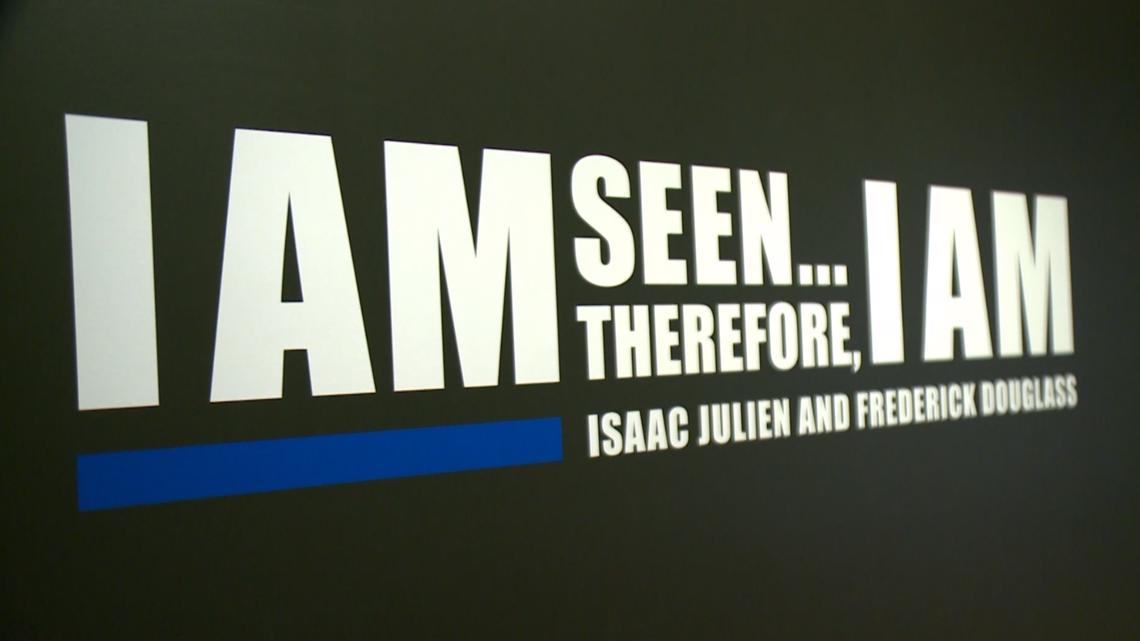 Lewis is an associate professor of history of art and architecture and African and African American studies at Harvard University. She joined this project after her friend and colleague, Professor Henry Louis Gates Jr. reached out to co-curate the exhibit together.
Gates is the Alfonse Fletcher University Professor and Director of the Hutchins Center for African and African American Research at Hartford University. He is probably most widely known for hosting the PBS series "Finding Your Roots."
He told FOX61 that he received an email one day to gauge his interest in whether he wanted to curate an exhibit focused on Julien's installation "Lessons of the Hour". For all of his achievements in academia and beyond, Gates had never curated an art exhibit.
"I had written about Frederick Douglass, about images of Frederick Douglass, his theories of photography, and so I didn't have to prepare," he said. "But, I'd never curated an exhibition before and I knew who had."
Gates reached out to Lewis and together they worked to bring the exhibition to life. It is making its debut in Hartford – exactly 180 years since Douglass made his first appearance.
"It really goes to show that any city likely in the United States is deeply connected. If they are on Frederick Douglass' extensive lecture tour with this early crucible and understanding between the relationship with images, racial justice and equity in the United States," Lewis said.
"I Am Seen… Therefore I Am", which consists of several spaces on the third floor of the Wadsworth, is really two different parts that are both juxtaposed and connected in a unique and powerful way.
On one side, visitors to the exhibit can sit and enjoy Julien's five-screen, 25-minute video installation weaves reenactments of Douglass' writings and travels with contemporary protest footage. The acclaimed London-based Black filmmaker and artist's use of five screens powerfully draws the viewer into the content matter, while underscoring Douglass' contemporary relevance in today's America.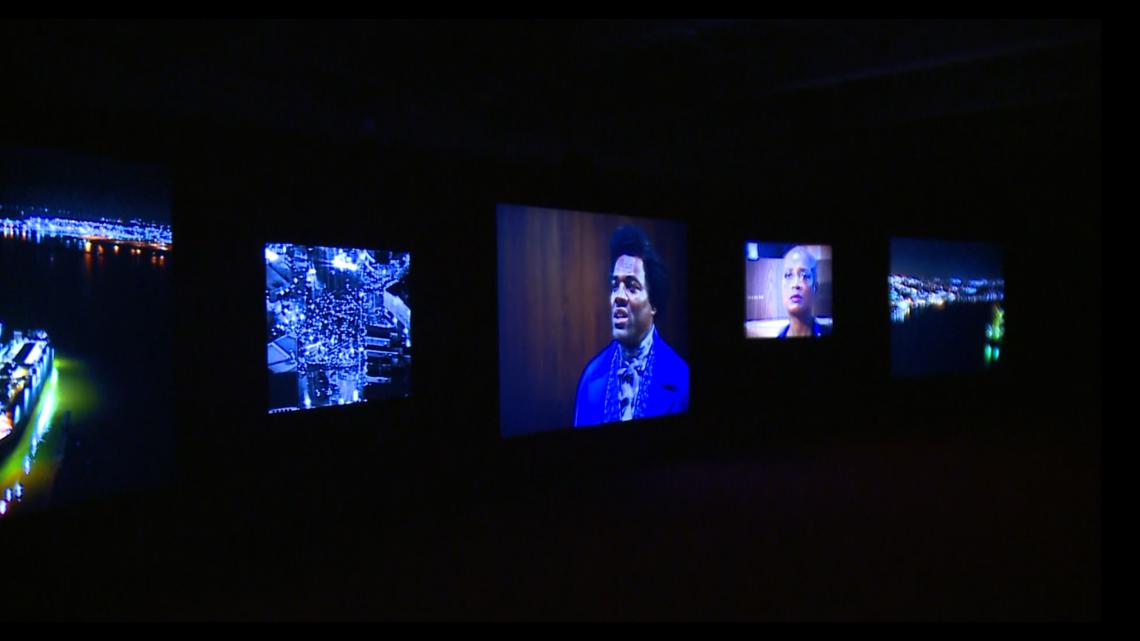 "Isaac's work defies chronology," said Matthew Hargraves, director of the Wadsworth Atheneum. "Sir Isaac Julien's work is all about the entanglement of history. So, we are looking at his piece – which is focused on the life and legacy of Frederick Douglass, and thinking about the ways that Douglass' legacy still impacts the world today."
In the other space, visitors will see an extraordinary collection of rare daguerreotypes – many on exhibit for the very first time – from pioneering African American photographers of the period. Among the works on display are the photos of Augustus Washington, one of the few known African American daguerreotypists, who based his practice in Hartford before emigrating to Liberia in 1853.
"Each one longs to tell their story," Hargraves said. "Sadly, in so many cases, we don't know the identities of these citizens, who sat before the camera. But in one or two cases, we do and there are stories we can uncover."
He tells the story of Cornelia Reed, an African American woman born free in the Carolinas, who soon after sitting down for her photograph, was captured while traveling with her mother to visit family in Jamaica. The ship was intercepted, and they were brought back to the U.S. and sold in Charleston, South Carolina.
"(Their) family in Nantucket got word of this and banded together and managed to raise by subscription money to buy their freedom," Hargraves said, adding that an uncle, who was once enslaved and could pass as white, traveled south and disguised himself as a slave owner to buy his family's freedom.
"He records, his heart pounding the whole journey for fear they would be caught."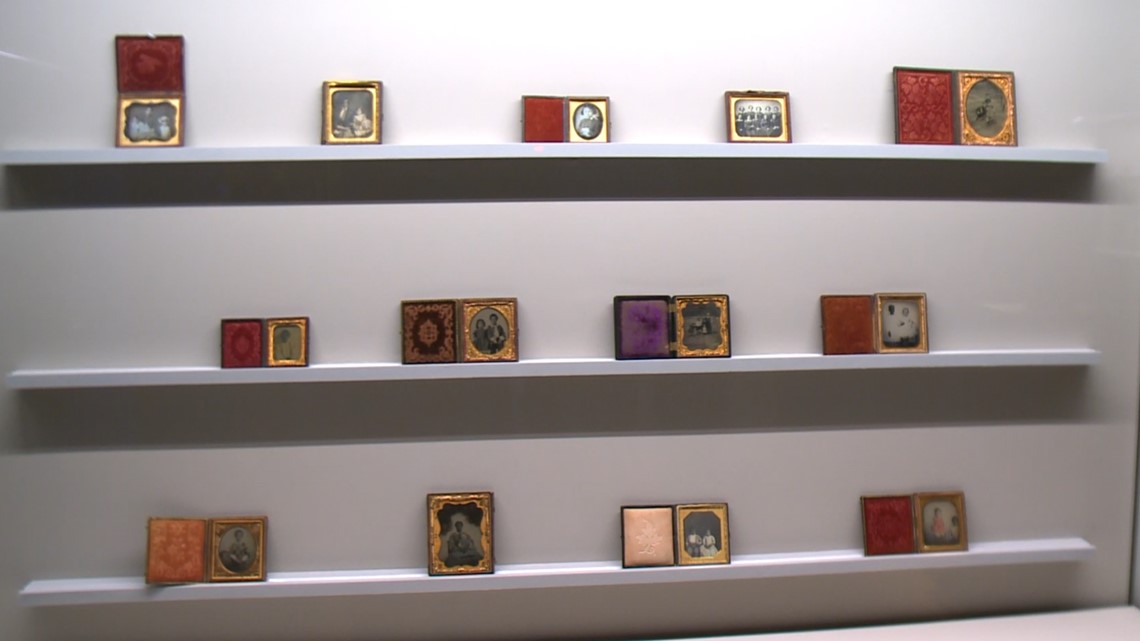 According to Gates and Lewis, Douglass was a pioneer when it came to the idea of daguerreotyping and was one of the most photographed Americans in the 19th century. They said that during the Civil War – while traveling around the country denouncing the enslavement of Africans – he was also developing the first theories of photography and the power of images.
"The revolutionary impact that this new affordable technology can affect," Gates said. "That is amazing. It shows how complex he was, how brilliant he was, how ahead of his time."
He added: "(Douglass) knew that the fight against anti-Black racism was a war over the image."
Lewis said that while not a lot of people understood why Douglass was speaking about the power of images during the Civil War, he seemed to understand and even indicate in his speeches that we would be here more than 150 years later engaging in this idea more fully.
"In this contestation and war regarding rights in American society, this show is a reminder that we've long been considering the role of culture for justice in the United States," she added.
Gates added that Douglass also understood that photography could be a social leveler as, at the time, only wealthy people could have their portraits painted.
"But he argued, that sooner or later, everyone would have their photograph taken," he said. "He couldn't imagine iPhones, but he was right. He says the poorest servant girl can have her image taken just like the queen of England. That was a revolutionary thought. Something we take for granted now."
Hargraves said that Douglass' forward-thinking theory surrounding photography was really about representation.
"The exhibition explores image-making in its full range and variety, and the importance of being seen, but the ability to being seen on your own terms," he said.
"I Am Seen … Therefore I Am: Isaac Julien and Frederick Douglas" will be on display at the Wadsworth Atheneum until September 24, 2023.
For more information, click here.
Lucia Suarez Sang is the Director of Digital Content at FOX61 News. She can be reached at lsuarezsang@fox61.com.
Have a story idea or something on your mind you want to share? We want to hear from you! Email us at newstips@fox61.com
HERE ARE MORE WAYS TO GET FOX61 NEWS
Download the FOX61 News APP
iTunes: Click here to download
Google Play: Click here to download
Stream Live on ROKU: Add the channel from the ROKU store or by searching FOX61.
Steam Live on FIRE TV: Search 'FOX61' and click 'Get' to download.